Supreme switch is an innovative device for switching diagnostic lines (from one OBD2 pin to another), additionally it can be used as an extension cable (OBD2 extender). The device is 100% compatible with Multiecuscan, Forscan and DDT4ALL applications, as well as any other diagnostic software.
Advantages of Supreme switch compared to other commercially available adapters for a similar purpose:
100% safe for every vehicle!
only one adapter is used, which can be used as an OBD2 extender as well;
no need to change the adapter when working with multiple systems on the vehicle;
the possibility of working with CAN BUS (pin 6 and 14) when using the K line (adapters/position 1, 2 and 4)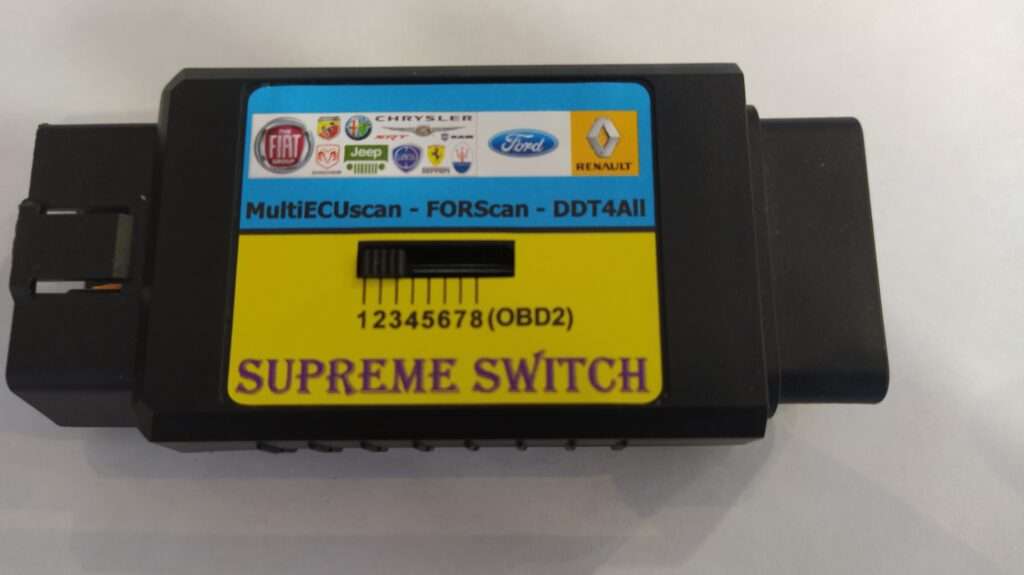 Vehicle safety above all else!
Respecting the basic need for the device to be safe for the vehicle, the Supreme switch was designed to ensure that regardless of the position of the switch and regardless of vehicle it is connected to, you can be 100% safey that tool will not cause any damage to the vehicle! The famous message on the Multiecuscan site: "Do not use modified iterfaces with short circuit between pins 1 and 9 (for green Adapter A1) on Grande Punto, Punto Evo, Punto 2012, 500, 500l, 500x, Doblo(152), Doblo(263), Qubo, Ducato 250, Panda 2012, Uno 2010, Bravo 2014, Delta 2014, Freemont, Thema/300c, Alfa Mito, Giulietta, Giulia, Stelvio, Ypsilon 2011!"
Compatibility
Furthermore, compatibility with adapters for Multiecuscan (A1, A2, A3, A4, A5 and A6) is maintained, so all or at least most systems that can be accessed with those adapters can be accessed the same way in the Supreme switch, in the sense that the adapter A1 corresponds to position 1, adapter A2 corresponds to position 2, etc. The only difference was made with the A1 adapter because it was primarily unsafe for certain vehicles, so certain systems that were accessed with the use of the A1 adapter are accessed in the Supreme switch in addition to position 1 using positions 3 and 5. This inventive approach brings Supreme switch to become safe for any vehicle because no line (OBD2 pin) is connected to each other, regardless of switch position used, pins are always moving from one to another without merging.
Improved functionality
The function of individual adapters has been improved and expanded, so when using position 1, 2 or 4, it is possible to use and connect to systems that are on CAN BUS (pin 6 and 14). This means that if you work on ABS on an Alfa Romeo 159 and position 1 is used on Supreme switch, you can connect to all systems on vehicle without need for any additional adapter or switching to position 8 (OBD2 extender). In this way, you reduce the need to change the position of the switch and execute easier and faster complete vehicle diagnostic.
Supreme switch switch position
Active pins – CAN BUS (CANH, CANL)
Note
1
K line – pin 1; CAN BUS – pin 6, 14
ABS systems – FCA group
2
K line- pin 3; CAN BUS – pin 6, 14
Airbag – FCA group
3
K line- pin 12; CAN BUS – pin 1, 9
Xenon light – FCA group
4
K line- pin 13; CAN BUS – pin 6, 14
5
K line- pin 9; CAN BUS – pin 3, 11
MS CAN – Ford group
Climate Control – FCA group
6
K line- pin 7; CAN BUS – pin 12, 13
7
K line- pin 7; CAN BUS – pin 13, 12
MM CAN – Renault group
8
K line- pin 7; CAN BUS – pin 6, 14
HS CAN – OBD2 Extender
Table 1 – Overview of active pins in the Supreme switch depending on the position of the switch
Use in applications
Forscan
At the request of the application to move device to MS CAN position, it is necessary to move the switch to position 5.
DDT4ALL
At the request of the application, to move device to MM CAN position (access to multimedia), it is necessary to move the switch to position 7.
Multiecuscan (MES) and AlfaOBD
Adapter markings A1 to A6 correspond to switch positions 1 to 6. The exception is A1, where position 1 is used to access pin 1 (mainly ABS systems). Picture from MES for A1, i.e. pin 1:
A1 or pin 1

when accessing pin 9 (mainly climate control), position 5 is used. Picture from MES for A1, i.e. pin 9:
A1 or pin 9

when accessing pin 12 (mainly Xenon lights), position 3 is used. Picture from MES for A1, i.e. pin 12: